As I'm sure we all know, Rani Khedira is off defending the eagle in Mexico and the U17s have made the semi-final!





In the Footsteps of His Brother
Rani Khedira is on the Ball For the U17 in Mexico.
By Oliver Trust
An Article in ZDF.de
Translated by me, Jenny Jenkins
Link to the German
"Football," says Lazar Khedira, "has always played a huge role in our lives." Small wonder that coming after Sami Khedira (24/Real Madrid) it is now the youngest of the three brothers who is creating a stir. Rani Khedira (17/VfB Stuttgart) is playing with the U17 in the semi-final of the World Cup.
The telephone bills in the Khedira household are higher in Stuttgart than they used to be. Oeffingen-Madrid. Madrid-Mexico. Mexico Oeffingen - the information network of this German-Tunisian family stays close-knit. "The boys talk to each other every day," says their father. "Sometimes they write each other instant messages for hours at a time."
It's the same for Denny Khedira (20/TV Oeffingen) who is the only one who is still at a "home-club" in the district league of Rems/Murr, studies Business Administration and who has fewer problems with his prominent last name.
A Similar Talent To Sami
That Rani Khedira wears his jersey and is compared with his older brother is "quite all right with Rani," says their father, who worked for 24 years in a metal trading company. "He has a similar talent to Sami's and runs really well," says the one-time coach who watched over his sons in Oeffingen.

That hard-work and discipline are primary isn't the only thing he's taught the successful midfielder Sami. "He taught me the lessons of life. Above all, to be honest and to believe in my dreams. That's what he believed in. That's the reason that I managed to get to the National team and to Real Madrid," says Sami of his father as teacher.




Eloquent, talented, beautiful - and hard to live up to!


Three Short World Cup Assignments

Like Sami, whose career was nearly cut short with injury, Rani knows that he "can't rely on the name. And it isn't easy, partly because he's always being measure up to Sami. He must have patience and fight to be allowed to play in the U17." Before the European championships in May 2011, Rani - a number six - was dropped at short notice from the German squad.

At the World Cup he has thus far come on for 3 short appearances - around 55 minutes in all. Nevertheless, the youngest is having fun. "From the mood, this has been the nicest experience," he says. Like all the players, he's had to adapt to some difficulties in Mexico. "The Revenge of Montezuma" is a real theme with many of his Stuttgarter teammates like Odisseas Vlachodimos, Robin Yalcin, or Sven Mende. "We needed a couple of days to enjoy ourselves," says Rani - who in Mexico wears the number 18.

Still a Way to Go

There are good signs for a good result. "We are so very happy for him. Unfortunately, Mexico is so far away," says father Khedira over his latest addition, who managed to get the the semifinals of the German Championship. "Rani is an absolute team player and plays an important part with us as captain," says Marc Kienli, ex-professional footballer and youth co-ordinator of VfB Stuttgart.

Rani - like the rest of his Stuttgart World Cup colleagues - will have to next try to break into the U19 and "will have to establish themselves there" (Kienle). The way to the top has the long shadow of his big brother across it. "But the Khediras are doing well and are quite relaxed about it," says Kienle. "Sami's career is something really special, and you don't see that every day."

We're Going to Win

Before a possible professional career, Rani and the rest of the U17 have to negotiate the semi-final against Mexico. Not only their father is optimistic about the result. "We are going to win and we will be in the Azteca Stadium for the final," he says. "I'm quite certain of it." If Rani is allowed to play, the telephone lines between Oeffingen, Mexico and Madrid will light up.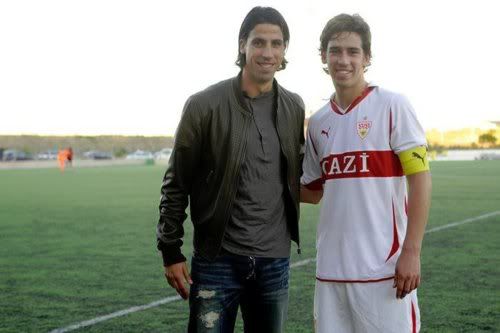 We know where he gets his winning ways from!